The word acupuncture literally means 'to puncture with a needle', but its usage is relatively new;  it was first used as a verb in 1972.  Acupuncture itself, though, has been around a long time, and it has picked up more than one way to puncture the skin along the way.  There is the Chinese system of course, but there are also the Japanese methods, as well as Vietnamese and Korean.  You will also find acupuncture in Ayurvedic tradition medicine.  There are also many micro-systems of acupuncture including facial, abdominal, scalp and head.
Ear Acupuncture – a modern twist on an ancient therapy
My training is in Chinese acupuncture, but I also use Ear acupuncture (also known as Auriculotherapy).  The origins of using the ear as a microsystem is not actually Chinese, but French.  In the 1950's, Doctor Paul Nogier discovered that there are anatomical correspondences associated with the image of the inverted foetus in the ear.  He observed a scar located precisely on the upper portion of the ear on several of his patients, made by a lay healer in Marseilles, had successfully treated their sciatic pain.  Based on this, Nogier was able to map the human body and its functions on the ear.
But what has this got to do with Chinese medicine? The Chinese later adopted Nogier's findings to enhance their own understanding of the ear as a microsystem.  Large scale trials carried out in China validated Nogier's discoveries and led to the eventual widespread acceptance of his approach.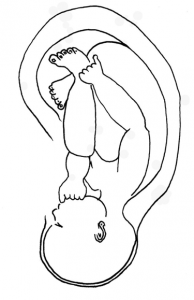 The anatomical representations and acupuncture points identified in the ear are therefore quite recent discoveries and cannot be considered traditional, but because of the inclusive nature of Chinese medicine and its ability to absorb ideas from outside, ear acupuncture has been embraced by TCM (Traditional Chinese Medicine).
So how is ear acupuncture different to normal acupuncture? 
Well, there is no difference; people have been sticking pins in their ears (and hands, feet, abdomens, and anywhere else you can think of) to see how it affects the body, for a very long time!  Just like Acupuncture on the normal meridians, Ear Acupuncture can help with not only pain, but a wide variety of conditions.
Ear treatments have been around for a long time.  In around 450BCE Hippocrates, who studied medicine in Egypt, wrote about the Egyptian method of treating impotence by bleeding points on the back of the ear.  And just a few hundred years later (250BCE – 200CE) the Chinese began to write about points on the ear for the treatment of specific conditions.
Did you know?
Ear acupuncture is commonly used in the treatment of alcohol and drug withdrawal. The NADA protocol (National Acupuncture Detoxification Association) was developed in the 1970s to help people in withdrawal from narcotics and later spread to alcohol and other withdrawal problems.  It has been used to benefit disaster victims and trauma sufferers worldwide.
Battlefield Acupuncture is a protocol developed for the US military and has been highly effective as an emergency analgesia for wounded soldiers.It is a first line therapy used before medics can evacuate the patient and introduce pharmaceuticals.  The protocol does not require the removal of armour or clothing so it can be applied immediately in the field.
It has been suggested that pirates used to believe wearing a gold or silver earring would improve their eyesight. There is an acupuncture point on the earlobe called the "ear point" or "vision point" or "master sensorial." Although there are various points on the body that may be used to improve eyesight, there are reports of people enjoying vision improvements after having their ears pierced.
What happens at an appointment?
An Ear acupuncture appointment is no different to a normal acupuncture appointment. However, it can be performed either seated or lying down, and there is no need to remove clothing.
Chinese medicine looks at the body as a whole, so I may ask you about things that at first seem unrelated to, say, the pain in your elbow.  This is because I need to ascertain that the cause of the pain is not due to something  other than playing tennis.  For example, the pain could be related to diet; research has shown that an autoimmune condition such as Rheumatoid Arthritis can be worsened by certain foods.
But it can sometimes be simpler than that.
I once saw a client who came to me with recurring left elbow pain.  After chatting with him about his lifestyle etc. he mentioned that he was a driving instructor.  It turned out that when he was working he spent most of the day with his left elbow leaning out of the window, exposed to the wind and cold! I treated him and suggested he wind the window up a bit, and the pain never returned!. No steroid injection that time, I'm happy to say.
Once the questions are over you can sit back comfortably during the treatment. Occasionally I may also use body points or Tui Na (Chinese massage) to enhance the treatment.
If you have any questions about acupuncture, or any of the topics in my blogs, please do contact me.  Find out more about me, or my treatments  here.